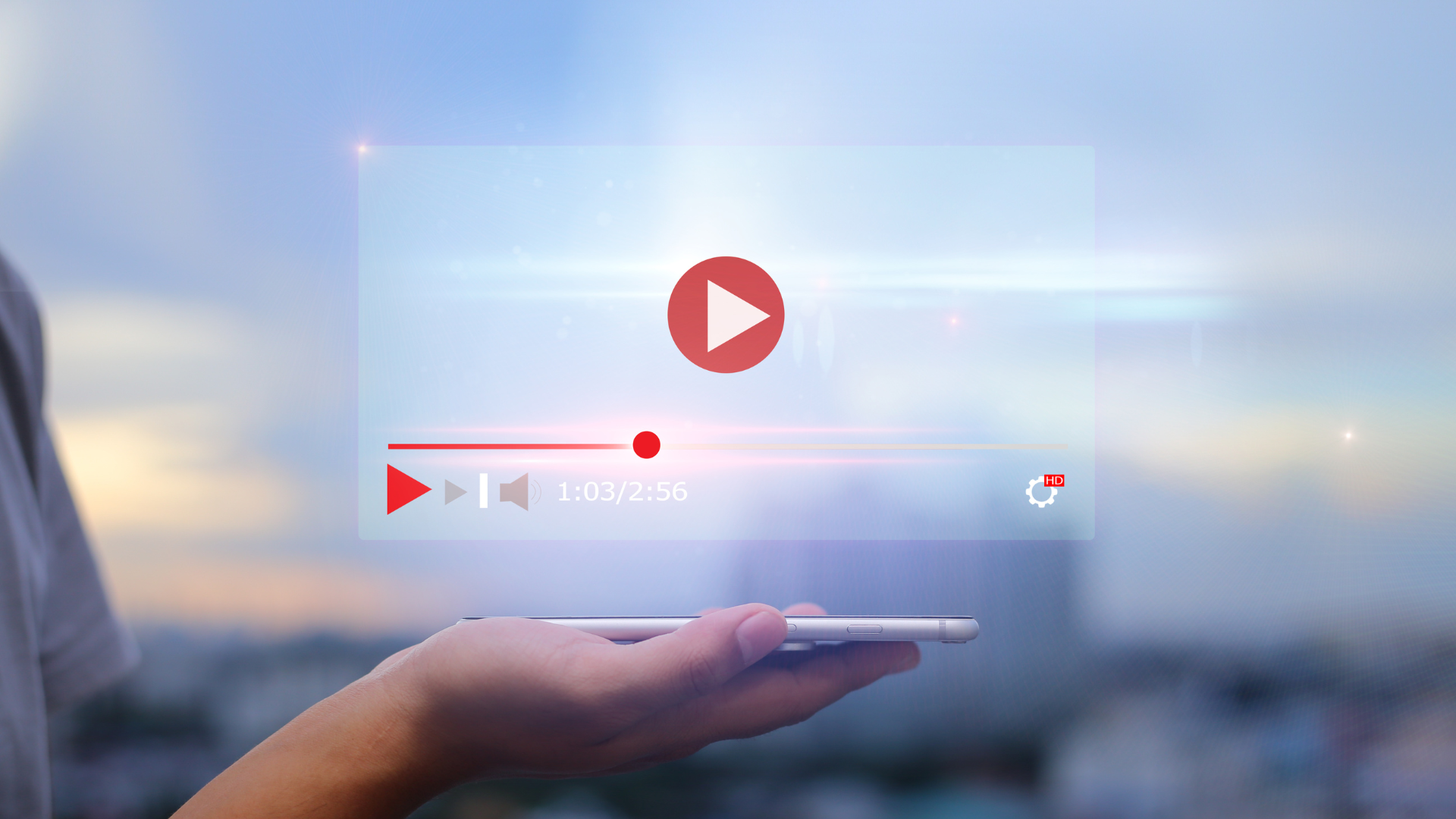 Reading Time:
6
minutes
In 2023, people find themselves watching 84 minutes of video content per day!  The power of video marketing is undeniable, and with internet users watching over 1 billion hours of YouTube daily, it might be time for your business to get on board. When running a successful business, you can't afford to miss out on the benefits of incorporating captivating marketing videos into your overarching strategy.
Video Marketing is a powerful tool that breathes life into your brand's story and connects with your audience on a deeper level. It's not just about creating visually appealing content; it's about capturing the essence of your brand, resonating with your target audience, and driving results that matter!
But how do you craft a truly effective video marketing campaign that cuts through the noise and grabs your viewers' attention?
We'll guide you through all you need to know to create compelling video content that entertains and drives engagement, boosts conversions, and elevates your brand's presence. Let's dive into the world of video marketing mastery – lights, camera, action!
What is Video Marketing, and Why is it Essential for Your Business?
Everything from an explainer video, customer testimonial videos, a YouTube video here and there, and landing page videos are all part of the fantastic world of video marketing! Video marketing is the art of creating and sharing engaging videos that promote your brand, products, or services across digital outlets. But how can it help your business flourish?
Picture this: your target audience is scrolling through their feeds when they suddenly stumble upon your video ad. They're captivated by the entire video, from its eye-catching visuals to its snappy dialogue. Not only does it entertain, but it also educates them about your brand, product, or service in a fun and accessible way. That's video marketing at its finest, and it's your golden ticket to boosting brand visibility.
The options are endless when it comes to designing your video marketing campaign. The key is to craft a video strategy that aligns with your marketing goals, speaks to your audience, and showcases your brand's unique style. Amongst other key marketing strategies, we provide video marketing tips and tricks to help you create videos that dazzle, delight, and deliver results.
The Impact of Video Content on Marketing Campaigns
Videos come in many formats, from short-form video content and engaging product videos to behind-the-scenes footage that offers a sneak peek into your brand story. The magic of video marketing lies in its ability to tell a compelling story while keeping your audience's attention glued to the screen. High-quality content can evoke emotions, foster connections, and inspire viewers to take action.
From posting videos on your YouTube channel to sharing snippets on Facebook, video content helps you connect with your audience across multiple marketing channels. So, whether you're creating short videos for Instagram or crafting an engaging brand video, remember that each piece of video content you produce can have a lasting impact on your marketing campaigns.
Key Elements of a Successful Video Marketing Campaign
Creating videos that resonate with your target audience requires careful video planning, from conceptualization to post-production. It's not just about capturing all the footage or having all your equipment; it's about understanding your video goals, the type of video that suits your marketing plan, and tailoring your content to each platform.
Define Your Goals: Establish clear objectives for your video marketing campaign before diving into video creation. Whether it's increasing brand awareness, generating leads, or boosting sales, having a defined goal helps you measure success and guides your content strategy.

Know Your Target Audience: Understanding your audience's preferences, pain points, and interests is essential for creating videos that resonate with them. Craft content that addresses their needs and offers solutions, ensuring your videos are engaging and relevant.

Choose the Right Format: Different video formats serve different purposes, from explainer videos and educational content to live streams and testimonials. Pick a format that aligns with your goals and showcases your brand's unique personality.

Tell a Compelling Story: A captivating narrative can make your videos memorable and share-worthy. Use storytelling techniques to evoke emotions, foster connections, and inspire your audience to take action.

Focus on High-Quality Production: Crisp visuals, clear audio, and seamless editing are crucial to creating professional-looking videos. Invest in the right equipment, software, or production company to ensure your videos stand out.

Optimize for SEO: Maximize the visibility of your videos by

optimizing them for search engines

. Use relevant keywords, attention-grabbing titles, and engaging descriptions to help your content rank higher in search results.

Promote Across Channels: Share your videos on multiple platforms, from your website and social media accounts to email campaigns and YouTube. Tailor your content to each channel, and leverage analytics tools to track engagement and optimize your strategy.

Measure and Analyze Results: Regularly analyze your video marketing campaign's performance to identify what's working and what needs improvement. Monitor key performance indicators (KPIs) like views, watch time, and conversion rates to inform future content creation.
By mastering these key elements, you'll be well on your way to crafting a successful video marketing campaign.
Choosing the Right Video Style for Your Brand
Selecting the right video style ensures your content resonates with your target audience. Each video style has its unique charm, from candid behind-the-scenes footage to polished brand videos that exude professionalism.
Your chosen video style should align with your brand identity, tone, and overall marketing objectives. Experimenting with different styles can help you discover which best showcases your brand's personality and captivates your audience.
Incorporating Educational and Explainer Videos for Higher Engagement
Did you know that educational videos and explainer videos are among the most sought-after content by consumers? These informative video formats offer a fantastic opportunity to engage your audience while providing valuable insights about your product or service. By simplifying complex concepts and presenting them in an easily digestible manner, these videos cater to your viewers' thirst for knowledge while positioning your brand as an industry expert.
The Video Creation Process: Planning, Filming, and Editing
Embarking on a successful video marketing campaign requires a well-thought-out video creation process that involves three key steps: planning, filming, and editing.
Planning: Before you hit the record button, take the time to develop a solid video plan. Determine your goals, target audience, and the type of video that best aligns with your video marketing strategies. Create a script or storyboard to ensure everyone involved is on the same page, and consider the various elements, such as location, props, and actors, needed to bring your vision to life.

Filming: With your plan in place, it's time to capture your video footage. Focus on creating high-quality videos using the right equipment, lighting, and composition. Whether you're filming a product video, an explainer video, or a live video, make sure your content is engaging and holds your audience's attention throughout.

Editing: In the post-production phase, carefully review and edit your video footage to create a cohesive and polished final product. Trim unnecessary parts, add transitions, adjust audio levels, and incorporate graphics or text to enhance your video's overall impact. Remember, a

well-edited video can make all the difference

in captivating viewers.
Video Marketing Tips for Social Media Platforms
Optimizing your content for different social media platforms is essential to maximize reach. Here are some tips to help you make the most of your videos on social media:
Adapt your videos to the unique requirements and user preferences of each platform. For example, create short, attention-grabbing videos for Instagram, while YouTube is better suited for longer, in-depth content. Ensure your videos are easily viewable on mobile devices, as many social media users access platforms via their smartphones. Many social media users watch videos with the sound off. Including captions and subtitles can increase engagement and ensure your message is accessible to a broader audience.
Leverage platform-specific features: Take advantage of features unique to each platform, such as Instagram Stories, Facebook Live, and YouTube's end-screen annotations, to boost your video marketing campaign's reach and effectiveness. Most importantly, maintain a regular posting schedule to keep your audience engaged and increase the visibility of your videos across various marketing channels.
By following these tips and implementing a well-planned video creation process, you'll be well on your way to enhancing your video marketing efforts and achieving tremendous success on social media platforms.
Start Crafting Your Video Marketing Strategy Today!
There's no better time to start creating an impactful video marketing strategy that propels your brand to new heights. At Hit Your Mark, we specialize in video content creation and a wide range of marketing services to help your business thrive in the digital landscape. 
Our fun and innovative approach ensures that your brand stays ahead of the curve, captivating audiences and generating results. Let's work together to make your video marketing dreams a reality. Get in touch with our expert team at Hit Your Mark today, and let us help you craft a winning video marketing strategy that makes your brand shine!