Reading Time:
4
minutes
The rise of Behance, Dribbble, and the like has unfurled an exciting tapestry of typography trends that marry artistry with technology. 
With an eye on the latest typography trends, we are witnessing a bold embrace of volumetric depth, shadow play, and tactile textures that bring a palpable presence to digital spaces.
Are you looking to infuse your projects with the boldness of chunky, assertive typefaces that command attention? Or are you leaning toward the subtle sophistication of a finely chiseled 3D serif that plays with light and shadow?
We'll sift through the best and brightest 3D font creators, which offer an immersive experience—think of the organic fluidity of natural forms—or those that bring a retro-futuristic nostalgia to the users' screens. 
Our quest is to find tools that resonate with the current design trailblazers and align with your unique creative voice and brand!
How Do You Create Custom 3D Fonts?
Creating custom 3D fonts is a journey of transforming the ordinary into the extraordinary, allowing for full personal expression.
Stock fonts come with ease and accessibility. Also, they are often free, although they might bring a host of licensing limitations, often restricting commercial use. 
Such fonts are ready-made, and while they are cost-effective and convenient for standard applications, they lack the originality and bespoke feel that genuinely captures your brand's essence.
When customizing these stock fonts or forging one from scratch, the sky's the limit! 
You begin with a vision, meticulously crafting each curve and corner, giving life to a font that's exclusively yours. 
Tailoring a stock font involves tweaking its attributes: altering weights, widths, kerning, or adding dimensional effects to fit your design's narrative.
Consider the typography's home. Will it be the centerpiece of your logo? The first impression of your brand's identity? Or will it be the consistent voice across your website, greeting every visitor with stylistic coherence?
In the realm of logos, the uniqueness of custom 3D fonts ensures your emblem stands out in a sea of sameness!
6 Types of Software Used for 3D Texts
3D text creation boasts several types of software designers use to craft their three-dimensional masterpieces:
3D Modeling Software
Powerhouse tools like Blender, Maya, and 3ds Max create detailed 3D models, including text. Professionals prefer these tools for their robust features.
Graphic Design Software
Adobe Illustrator and Photoshop can add 3D effects to text, as well as modify and adapt stock fonts to create visual and typographic masterpieces.
Motion Graphics Software
Adobe After Effects animates 3D text for video productions, offering a blend of design and motion.
Dedicated 3D Text Programs
Some applications, such as Aurora 3D Text & Logo Maker, focus exclusively on 3D text creation, offering user-friendly interfaces specifically for this purpose.
Font Creation Software
FontLab and Glyphs allow designers to create unique 2D fonts and import them into 3D software for extrusion and further manipulation.
Web-Based Applications
Online tools like Canva, Vectary, and Tinkercad provide a more accessible entry point for creating 3D texts without installing complex software.
Reviews of Most Popular 3D Font Tools
Canva
Canva has revolutionized graphic design with its user-friendly interface, making it a go-to tool for non-designers and professionals alike:
Ease of Use:

With its drag-and-drop functionality, creating 3D text in Canva is as simple as selecting the text and choosing a pre-set 3D effect. The simplicity is perfect for quick designs but may feel limiting for those seeking intricate customizations.

Customizability:

Canva provides a range of customizable options, such as color changes and font selection. However, for deeper customization, like adjusting the text's extrusion depth or lighting, its options are less extensive than more specialized software.

Resolution:

The output resolution is high enough for digital platforms but may only meet the requirements for high-resolution print media with some quality loss.

Licensing:

Canva's licensing is straightforward, with a vast library of free elements and fonts. The Pro version offers extended assets and features. However, for commercial use, always double-check the licensing to ensure compliance.
Adobe Illustrator
As a vector-based software, Adobe Illustrator is a powerhouse for creating scalable 3D text both professionals and novices love!
Ease of Use:

Illustrator has a steeper learning curve compared to Canva. It requires more time to master but rewards users with a far greater range of creative possibilities.

Customizability:

Illustrator excels in customizability. You can tweak every aspect of your 3D text, from bevels and extrusions to custom shading and lighting effects. It is ideal for those who want complete control over their design.

Resolution:

Being vector-based, Illustrator's 3D text remains crisp and clear at any resolution—excellent for both digital and print media.

Licensing:

Illustrator is part of the

Adobe Creative Cloud subscription

, allowing

commercial use and making it suitable for professional projects.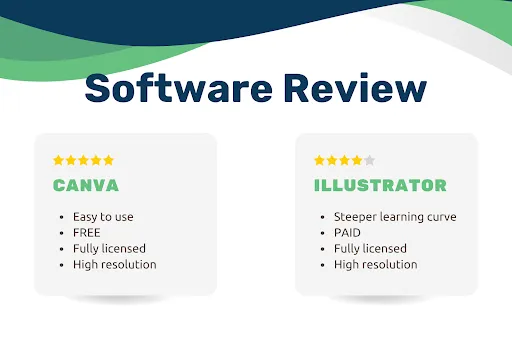 How Do I Create 3D Fonts in Word?
Begin by selecting your text and diving into the 'Format' tab. Here, you'll find 'Text Effects,' where shadows and reflections add layers to your letters. 

To give your text that 3D pop, play with 'Text Fill & Outline' and 'Shadow Effects.'

By adjusting the shadow's angle and blur, you can create a sense of depth. The final result won't have the same dimensionality as dedicated 3D software. Still, it'll give your documents a lift off the page.
Selecting the Best 3D Font Creator for You!
At Hit Your Mark, we specialize in elevating brands with bespoke 3D fonts crafted to perfection. 
Our experienced graphic designers are at the forefront of innovation, utilizing state-of-the-art software to turn your typographic dreams into reality.
Don't let your brand blend into the background. Stand out with custom 3D lettering that makes an impact and leaves a lasting impression.
Schedule a discovery call or visit our Blog Hotte Spotte for more digital marketing insights!